Manufacture of first ZVS-enabled power module underway
ZVS-enabled power modules to be integrated into Hillcrest SiC traction inverter this year
Dynamic load demonstration testing underway with Global Tier One Automotive Supplier's motor subsystem
VANCOUVER, BC, June 22, 2023 – Hillcrest Energy Technologies (CSE: HEAT) (OTCQB: HLRTF) (FRA: 7HIA.F) ("Hillcrest" or the "Company"), an innovative clean technology company revolutionizing power conversion technologies and advanced control system solutions, is pleased to provide shareholders an update on recent activities.
Manufacture of Hillcrest ZVS-enabled Power Modules
With the design phase now complete, the Company is now manufacturing the EV industry's first silicon carbide (SiC) power module prototype optimized for Hillcrest's proprietary Zero Voltage Switching (ZVS) technology. Manufacturing is taking place at the facilities of the Company's strategic partner, Systematec GmbH, in Germany.
The integration of the Company's ZVS-enabled power module into the Hillcrest SiC traction inverter will create the world's first ZVS-optimized SiC traction inverter.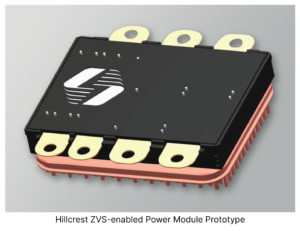 Hillcrest Chief Technology Officer, Ari Berger, commented, "We've already demonstrated industry-leading results with our current ZVS-enabled SiC traction inverter.  Integrating these new power modules into our inverter allows us to maximize the benefits of our ZVS technology. We are now able to deploy further improvements in switching control and operation at higher switching frequencies to achieve even more impressive levels of power density, system efficiency and further reductions in electromagnetic interference (EMI) behaviour for applications up to 1,000 volts."
Hillcrest Chief Commercialization Officer, James Bolen, added, "The EV industry is shifting toward the use of power modules and away from the use of discrete power solutions because they are complicated, have significant power limitations and take up valuable space. The Hillcrest ZVS-enabled power module addresses this trend and offers all the advantages of our ZVS technology coupled with the significant improvements in size, reliability, design capabilities and reduced time to market."
Power modules are a critical component in all high energy-density power conversion equipment, such as automotive traction inverters. They consist of a substrate containing power semiconductor devices (silicon carbide dies), connected to form a circuit that provides excellent electrical and thermal contact and insulation. Hillcrest's ZVS power module prototypes are being developed in collaboration with the Company's strategic partner, Systematec GmbH, with Hillcrest retaining all intellectual property.
The Hillcrest SiC traction inverter harnesses the power of the Company's proprietary ZVS technology platform. Extensive lab tests and simulations have showcased substantial improvements in system-level efficiency, performance, and reliability for electric systems such as electric vehicles and stationary energy generation and energy storage systems.
Demonstration Testing with Global Tier One Automotive Supplier
Dynamic load demonstration testing with a specialized motor provided by a Global Tier One Automotive Supplier is underway at Hillcrest's R&D lab in Vancouver. Completion of the tests and the Global Supplier's acceptance of the results are expected next month and will conclude milestone two of the Company's previously announced joint development project. Work then starts on the next milestone which includes a series of on-site demonstrations at the customer's facilities. Upon successful completion of all milestones, Hillcrest and the Global Tier One Automotive Supplier anticipate entering into a definitive commercial agreement.
CEO Don Currie Participates in Interview to Discuss Achievements and 2023 Outlook
Hillcrest CEO, Don Currie sat down to discuss recent Company achievements and the opportunities on the horizon for 2023. Topics included the Company's core technologies centered around the proprietary implementation of Zero Voltage Switching (ZVS), milestones and the path to commercialization, and additional applications for the Hillcrest ZVS technology beyond electric vehicles. Access the full interview at this link.
About Hillcrest Energy Technologies
Hillcrest Energy Technologies is a clean technology company developing high-value, high-performance power conversion technologies and digital control systems for next-generation powertrains and grid-connected renewable energy systems. From concept to commercialization, Hillcrest is investing in the development of energy solutions that will power a more sustainable and electrified future. Hillcrest is publicly traded on the CSE under the symbol "HEAT," on the OTCQB Venture Market as "HLRTF" and on the Frankfurt Exchange as "7HIA.F". For more information, please visit: https://hillcrestenergy.tech/.
CONTACT INFORMATION
Investor Relations
Don Currie
+1-604-609-0006
Toll-free: 1-855-609-0006
Or Walter Frank/Jennifer Belodeau
IMS Investor Relations
hillcrest@imsinvestorrelations.com
+1 203-972-9200
Public Relations
Jamie Hogue
+1 602-793-9481

Hillcrest Commences Manufacturing of ZVS-enabled Power Modules and Provides Additional Shareholder Updates
NEITHER THE CANADIAN SECURITIES EXCHANGE NOR ITS REGULATION SERVICES PROVIDER HAS REVIEWED OR ACCEPT RESPONSIBILITY FOR THE ADEQUACY OR ACCURACY OF THIS RELEASE
.
Cautionary Statement Regarding "Forward-Looking" Information
Some of the statements contained in this news release are forward-looking statements and information within the meaning of applicable securities laws. Forward-looking statements and information can be identified by the use of words such as "expects", "intends", "is expected", "potential", "suggests" or variations of such words or phrases, or statements that certain actions, events or results "may", "could", "should", "would", "might" or "will" be taken, occur or be achieved.  This forward-looking information is provided as of the date of this news release.  The forward-looking information reflects our current expectations and assumptions and is subject to a number of known and unknown risks, uncertainties and other factors, which may cause actual results, performance, or achievements to be materially different from any anticipated future results, performance or expectations expressed or implied by the forward-looking information.   No assurance can be given that these assumptions will prove correct. Forward-looking statements and information are not historical facts and are subject to a number of risks and uncertainties beyond the Company's control. Investors are advised to consider the risk factors under the heading "Risks and Uncertainties" in the Company's MD&A for the year ended December 31, 2021, available at www.sedar.com for a discussion of the factors that could cause the Company's actual results, performance and achievements to be materially different from any anticipated future results, performance, or achievements expressed or implied by the forward-looking information. Accordingly, readers should not place undue reliance on forward-looking statements. The Company undertakes no obligation to update publicly or otherwise revise any forward-looking statements, except as may be required by law.