At the intersection of range and cost, the traction inverter remains the epicenter for innovations aimed at unlocking further electric vehicle efficiency and range.
The Hillcrest ZVS Technology enables power applications to operate at higher power levels AND higher switching frequencies without compromising efficiency.
800V | 250 kW SiC Traction Inverter
Hillcrest's core technology platform centers around its proprietary Zero Voltage Switching (ZVS) technology. This unique approach to soft switching, when combined with Hillcrest's proprietary power electronics hardware and control firmware, can achieve increased efficiencies, performance and reliability in electric systems, such as electric vehicles and grid-connected energy systems.
The 800V | 250 kW EV SiC traction inverter leverages the Hillcrest ZVS Technology to solve many common challenges faced by today's conventional inverters. Lighter, more compact and more efficient than conventional inverters on the market today, the Hillcrest ZVS traction inverter offers benefits across the entire powertrain.
Potential Impacts of Hillcrest Technologies on Electric Mobility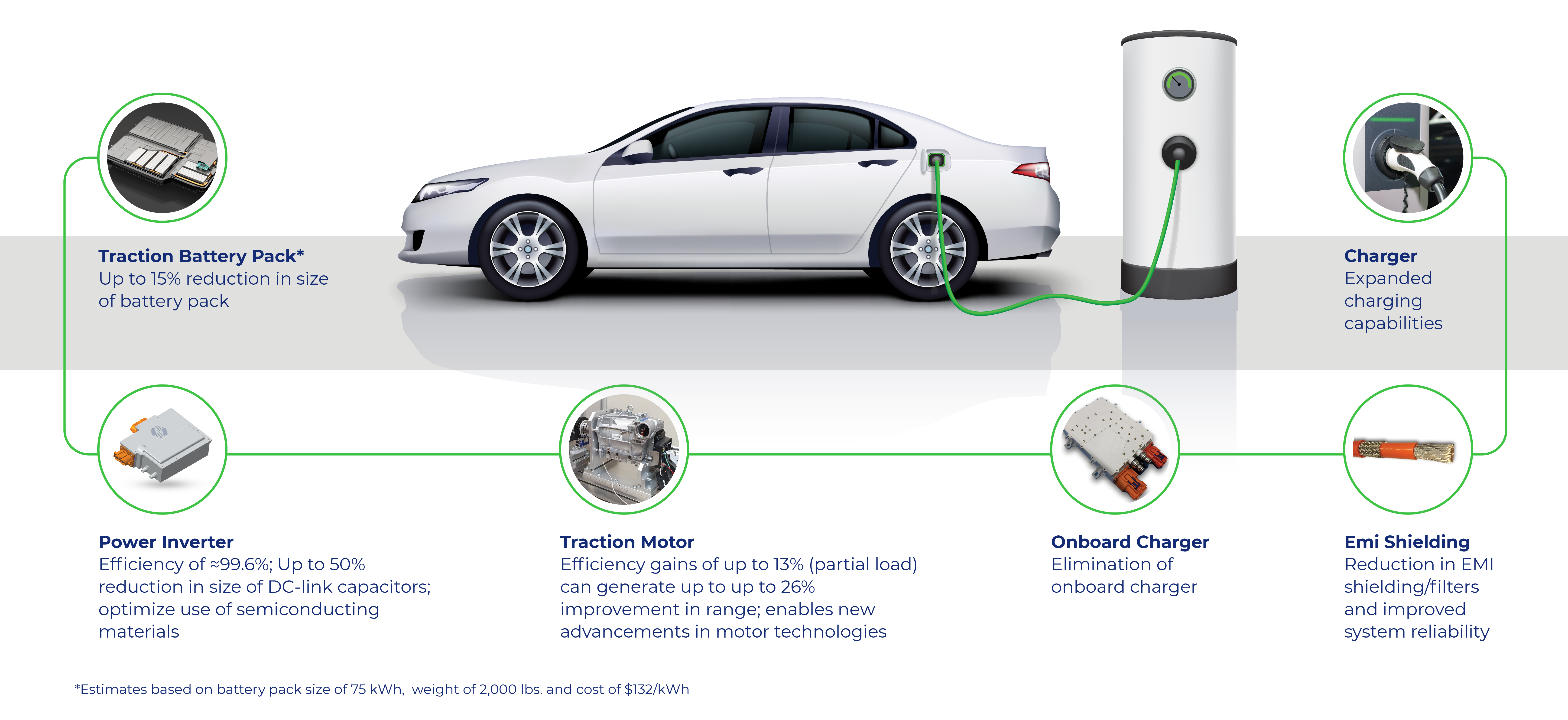 HILLCREST TECHNICAL WHITEPAPERS
Specifications Highlights
RATED
800 V nominal | 1,000 V peak
250 kW continuous | 350 kW peak
ESTIMATED VOLUME
6.5 Litres
DESIGN SPECS
Automotive Standards
TARGETED POWER DENSITY
~50 kW/L
| Description | Expression | Value |
| --- | --- | --- |
| Rated Voltage | VN | 800V |
| Minimale Input Voltage | Vmin | 470V |
| Maximum Input Voltage | Umax | 1000V |
| Maximum Intermediate Circuit Current | Idc_max | 400 A |
| Expected Top Performance | Smax | 350 kVA |
| Expected Rated Power | S | 250 kVA |
| Maximum Phase Current | Iph_max | 360A |
| Phase Current | Iph | 260A |
| Revolutions | N | Variable |
| Pole Pairs | p | Variable |
| Sine Frequency | fsin | Variable |
| Switching Frequency | fsw | 50kHz nominal 5 kHz-100kHz Variable |
| Environment Temperature | Tamb | -40°C…125°C |
| Coolant Temperature (water cooling) | TCool | -40°C…70°C |