Hillcrest Inverter Technology
Creating tomorrow's power system solutions today
At Hillcrest, we are creating solutions that unlock efficiencies in electrification and maximize the performance of integrated electric systems now and in the future.
Hillcrest Inverter Technology Differentiators
The Hillcrest high efficiency inverter is a new class of inverter technology that solves many common challenges faced by today's electric power systems. Three key differentiators set the Hillcrest inverter technology apart:
Smaller + Lighter + More Powerful
The combined benefits of the Hillcrest inverter technology enable the smaller, lighter and more powerful capabilities required of next-generation power systems.
System Reliability + Performance
By eliminating inverter losses, the Hillcrest inverter technology reduces the thermal management needed across the entire powertrain system. This can generate substantial savings, reduce system complexity and improve system reliability by reducing stress on power devices.
An inverter is a power electronic device that transforms direct current (DC) into alternating current (AC).  For example, DC power from a battery must be converted to the required AC power by the inverter before it can be used by an electric motor in an EV.
Located at the intersection of range and cost considerations, the inverter represents the nexus for innovations that will unlock further EV efficiency and range gains.
Hillcrest Inverter Technology Eliminates Design Trade-Offs
The Hillcrest inverter​ technology eliminates the traditional design trade-offs faced across the power industry – deploying higher switching frequencies historically has meant a greater increase in losses (lower system efficiency, higher heat).
Through a combination of hardware and software expertise, our inverter technology enables power applications:
To leverage higher switching frequencies AND
Realize improved power system performance and reliability AND
Operate at higher power levels without compromising efficiency
Hillcrest Inverter Technology Applications
The Hillcrest inverter technology is being deployed across a wide variety of power applications.
Our adaptable architecture is greatly reducing the time needed to design various inverter applications and will allow technical integration of the inverter value proposition into nearly any inverter platform.
E-mobility
The first application of our flagship inverter technology is focused on vehicle electrification and other e-mobility applications.
The 250kW 800V SiC EV inverter commercial prototype will be delivered in 2022.
Grid-connected renewable power
The second high-potential application of our flagship inverter​ technology is expected to be grid-connected power generation.
A 250kW 800V grid inverter is already under development and is expected in 2023.
Enhanced EV powertrain
The Hillcrest inverter​ technology is also being applied to an enhanced electric powertrain solution.
The Hillcrest inverter-enabled enhanced powertrain solution is already under development and is expected in 2023.
High-power inverter applications
The Hillcrest inverter​ technology can also be applied to medium/high power industrial applications such as utility-scale renewable energy generation, rail and cargo.
A high-power inverter application is currently in early stages of development.
Silicon Carbide (SiC) is a key material inside Hillcrest's inverters – combined with proprietary software for electronic control, SiC provides the ability to operate at higher switching frequencies with minimal efficiency and heat losses.
Energy Solutions Powering The Future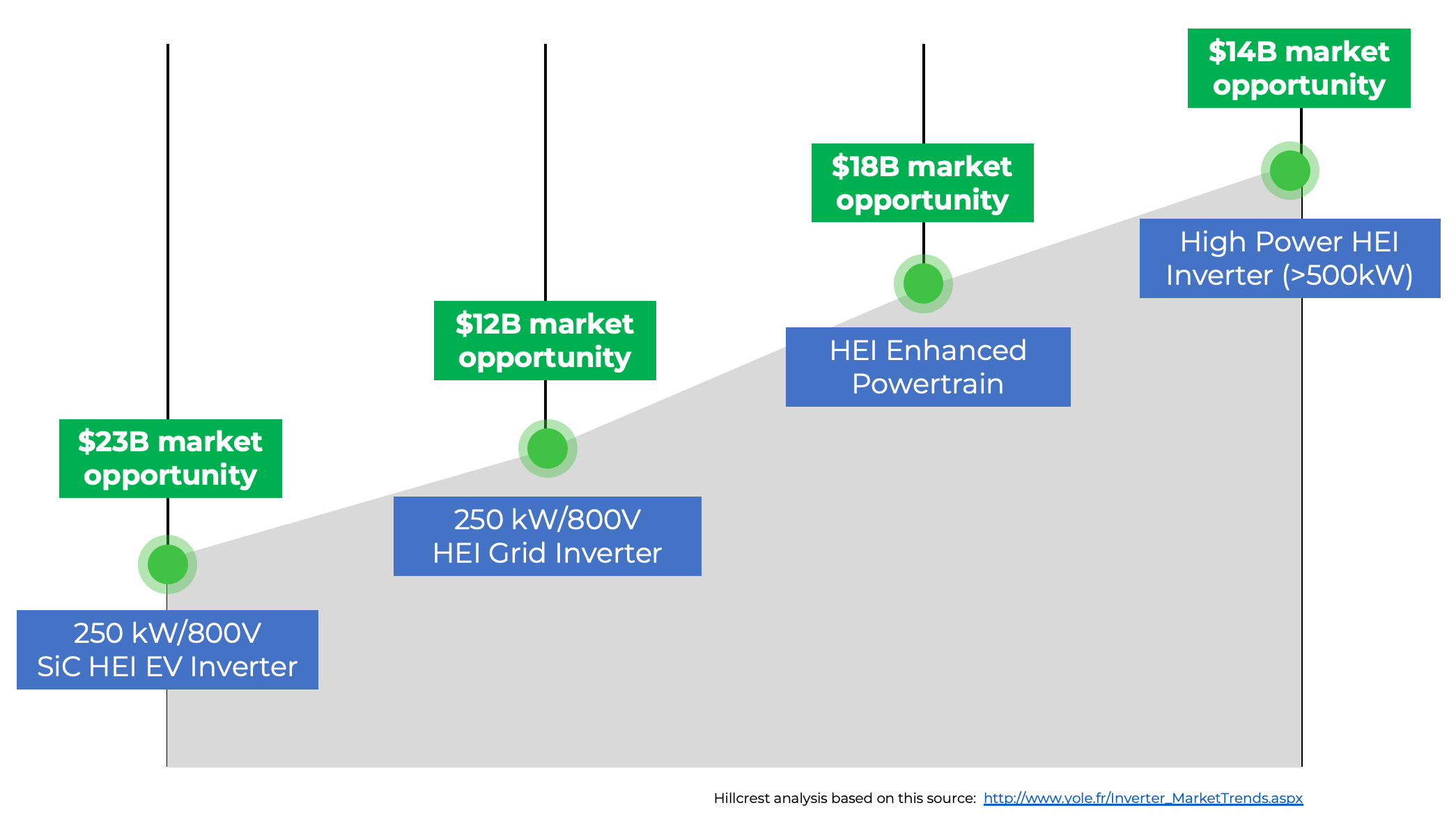 Hillcrest is creating shareholder value  by owning, developing  and optimizing technology and IP that enables and supports the acceleration of global electrification.
Our clean energy technologies specifically target efficiencies in electric machines to maximize electric system performance in electric vehicles, grid-tied renewables, charging and storage systems, and high voltage/high power applications such as utility-scale grid, rail and container ships.
In addition to scaling our in-house development and design capabilities, Hillcrest will continue to target additional strategic partnerships with the potential to scale with us.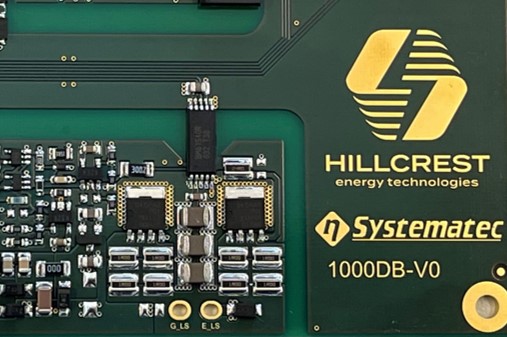 Technology Development Collaboration
Hillcrest and Systematec GmbH are partners in a Technology Collaboration Agreement with an initial term of five years.
Systematec is a leading German power electronics engineering and electromechanical component design company servicing the German automotive industry.
Technical teams on both continents jointly manage technology development activities that leverage Hillcrest's electric machine control software and Systematec's design capabilities to develop high-value power electronics and electromechanical IP for commercialization. All products and IP developed through this collaboration are owned by Hillcrest. 
Learn more about Systematec GMBH
Systematec GmbH is a privately-owned engineering company for development, production, integration and testing of power electronics and electromechanical components for hybrid and electric vehicles. The Systematec team has over 25 years of experience in powertrain component engineering for hybrid and electric vehicles – from discovery and definition phase, through design and manufacturing, to integration, testing and validation.
Systematec GmbH clients include a wide variety of hybrid automobile/EV and electrical equipment manufactures.
See the current list of Systematec reference clients on their website:
Company Intellectual Property
In 2021, Hillcrest acquired ANIGO Technologies  Ltd., with its high-performance electric machine control software and is employing the IP's inventor, Ari Berger, as the Company's Chief Technology Officer.
This software IP, specifically designed for use with electric motors, electric generators and other integrated power systems, has the potential to greatly enhance the performance of any application requiring precise control of rotating electric machines.
This acquisition enables Hillcrest to  further innovate, develop and exploit the full potential of this software in select, high-value  electrification applications.
In addition to the IP acquired through ANIGO, Hillcrest continues to generation new IP, including several new patents.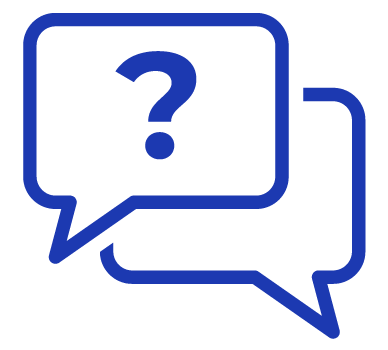 Please contact us
Are you interested in our technologies? Please don't hesitate to contact us!