Hillcrest successfully completes first bench test for global Tier One automotive supplier.
Ultimate goal is the delivery of an optimized Hillcrest SiC inverter followed by the potential commercialization of a 350-kW product in 2024.
VANCOUVER, BC, April 18, 2023 – Hillcrest Energy Technologies (CSE: HEAT) (OTCQB: HLRTF) (FRA: 7HIA.F), a clean technology company developing transformative power conversion technologies and control system solutions for electrical systems, is pleased to announce the successful completion of the first milestone with a global Tier One automotive leader in mobility innovation.
Pursuant to the terms of the memorandum of understanding ("MOU"), announced on October 20, 2022, Hillcrest and the supplier are collaborating on the integration of an optimized version of Hillcrest's ZVS-enabled, 250-kilowatt (kW), 800-Volt (V) Silicon Carbide (SiC) inverter into an electrical powertrain system.
Hillcrest successfully delivered, and the global Tier One supplier has accepted, the first demonstration test results, satisfying the first milestone of the MOU and a purchase order has been issued for the next two milestones.
This marks the first in a series of testing configurations with the supplier to occur during 2023. The next milestone is the integration of the Hillcrest SiC inverter with the customer's motor at the Hillcrest facility, followed by integration of the inverter and motor into a demonstration system at the customer's facility. Upon successful completion of these milestones, the MOU anticipates shifting to the integration of a 350kW Hillcrest inverter for potential commercialization.
"Completion of this milestone provides yet another validation of the capabilities of our proprietary ZVS technology," stated Hillcrest CTO, Ari Berger.  "I'm extremely proud of the team and the results we've achieved and excited to move forward to the next phase of activities with the global Tier One supplier."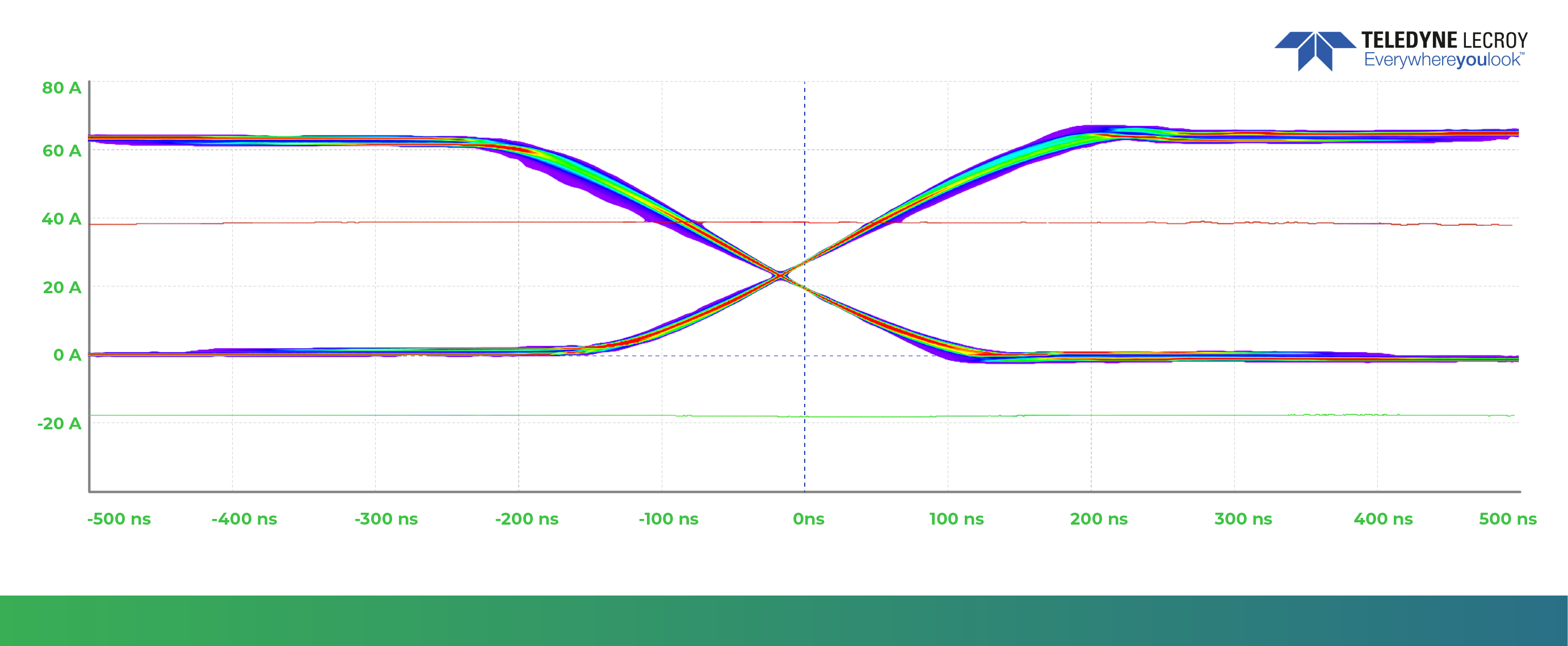 Infinite persistence capture of the drain-source voltage of a low-side switch of one of the three phases of the Hillcrest SiC inverter. Testing at 640V, 170Apeak AC, 40A DC, dv/dt is around 2V/ns. Switching frequency is 40kHz. (image captured using Teledyne LeCroy MDA 8108HD)
Berger continued, "As illustrated in the included scope picture, we've achieved an extremely smooth voltage transition with low dv/dt, no overshoot and no oscillation (ringing).  These results suggest very low electromagnetic interference (EMI). Our ability to reduce EMI could result in an extension in the useful life of our inverter as well as the motor and reduce the associated cable shielding requirements, creating weight and cost savings and improvements in reliability."
The Hillcrest SiC traction inverter takes advantage of the Company's proprietary Zero Voltage Switching (ZVS) technology platform, which has been demonstrated in lab tests and simulations to achieve substantial improvements in system-level efficiency, performance and reliability in electric systems, such as electric vehicles and stationary energy generation and storage systems.  The Hillcrest SiC traction inverter is the first in a series of planned products being developed by the Company.
About Hillcrest Energy Technologies
Hillcrest Energy Technologies is a clean technology company developing high-value, high-performance power conversion technologies and digital control systems for next-generation powertrains and grid-connected renewable energy systems. From concept to commercialization, Hillcrest is investing in the development of energy solutions that will power a more sustainable and electrified future. Hillcrest is publicly traded on the CSE under the symbol "HEAT," on the OTCQB Venture Market as "HLRTF" and on the Frankfurt Exchange as "7HIA.F". For more information, please visit: https://hillcrestenergy.tech/.

Hillcrest Successfully Completes First Milestone for Global Tier One Automotive Supplier
NEITHER THE CANADIAN SECURITIES EXCHANGE NOR ITS REGULATION SERVICES PROVIDER HAS REVIEWED OR ACCEPT RESPONSIBILITY FOR THE ADEQUACY OR ACCURACY OF THIS RELEASE
.
Cautionary Statement Regarding "Forward-Looking" Information
Some of the statements contained in this news release are forward-looking statements and information within the meaning of applicable securities laws. Forward-looking statements and information can be identified by the use of words such as "expects", "intends", "is expected", "potential", "suggests" or variations of such words or phrases, or statements that certain actions, events or results "may", "could", "should", "would", "might" or "will" be taken, occur or be achieved.  This forward-looking information is provided as of the date of this news release.  The forward-looking information reflects our current expectations and assumptions and is subject to a number of known and unknown risks, uncertainties and other factors, which may cause actual results, performance, or achievements to be materially different from any anticipated future results, performance or expectations expressed or implied by the forward-looking information.   No assurance can be given that these assumptions will prove correct. Forward-looking statements and information are not historical facts and are subject to a number of risks and uncertainties beyond the Company's control. Investors are advised to consider the risk factors under the heading "Risks and Uncertainties" in the Company's MD&A for the year ended December 31, 2021, available at www.sedar.com for a discussion of the factors that could cause the Company's actual results, performance and achievements to be materially different from any anticipated future results, performance, or achievements expressed or implied by the forward-looking information. Accordingly, readers should not place undue reliance on forward-looking statements. The Company undertakes no obligation to update publicly or otherwise revise any forward-looking statements, except as may be required by law.